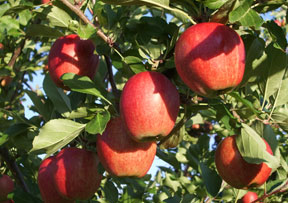 Apples, Apples, and more Apples!
We Pick or You Pick
At Foote Family Farm we have 10 varieties of apples available to pick from as they ripen. Enjoy a family outing to the farm to pick some of the finest Annapolis Valley apples.
We have the following varieties - listed in approximate ripening order:

Cox's Orange Pippin
McIntosh
Gala
Honeycrisp
Jonamac
Cortland
Jonagold
Red Delicious
Golden Russett
Northern Spy

We have other fruit too! Go here to see our other farm produce!